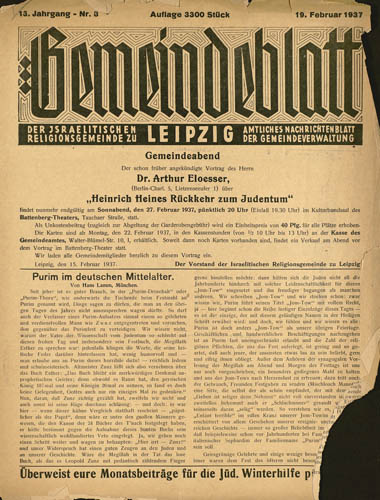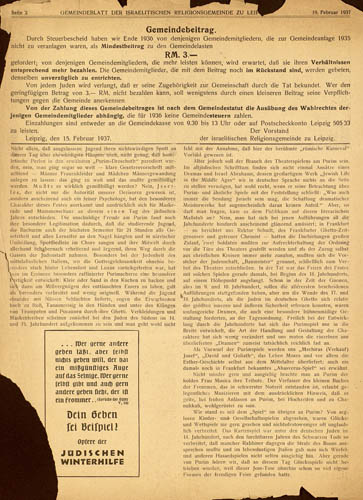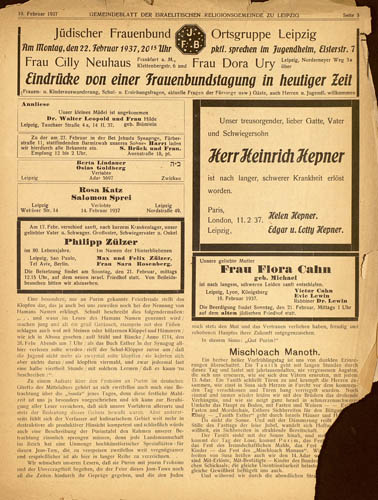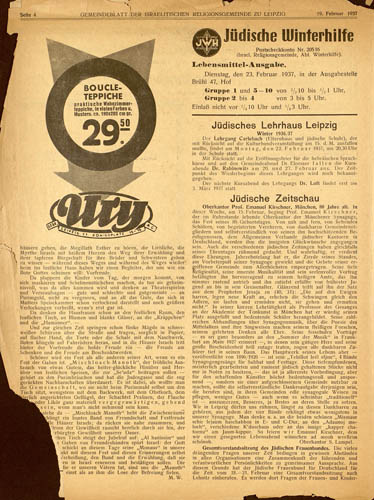 Gemeindeblatt der Israelitischen Religionsgemeinde zu Leipzig amtliches Nachrichtenblatt der Gemeindeverwaltung
(Trans. Official community newsletter of the Israelite community to Leipzig; newsletter of the local government)
1937
Leipzig
From the Isser and Rae Price Library of Judaica
In 1925, the Jewish community of Leipzig had numbered over 13,000 members making it the largest Jewish community in Saxony. After the rise of the Nazis to power in 1933, numbers began to dwindle, and by 1937 the community was facing severe economic pressure. This scarce issue of the Leipzig Gemeindeblatt from February 1937 – just 8 pages long – reveals some of those pressures. There are, for example, three separate notices for the Judische Winterhilfe (Jewish winter aid) – a Jewish organization founded in 1935 to help needy Jews get through the winter by providing food, medicine and heating. The Jews had been excluded from the general German fund after the Nuremberg Laws were instituted in 1935. The second page opens with a reminder to members to pay their community dues to assist the general welfare, and the third page has a section dedicated to the history and importance of mishloach manot the distribution of parcels (usually food gifts) for Purim. Page six has a large section listing Jewish craftsmen and their trades, and the final two pages list Jewish businesses and rooms to let. Just one month after this issue was published, in March 1937, as revealed in a now iconic photograph, three prominent Jewish businessmen were marched through the streets of Leipzig wearing placards that read "Don't buy from the Jews! Shop in German businesses!" The following year, during Kristallnacht, the centers of Jewish communal life in Leipzig were destroyed, as well as the 1855 Moorish Revival synagogue - one of Leipzig's most architecturally significant buildings. Deportations from Leipzig to concentration camps began in January 1942.