click image to view complete book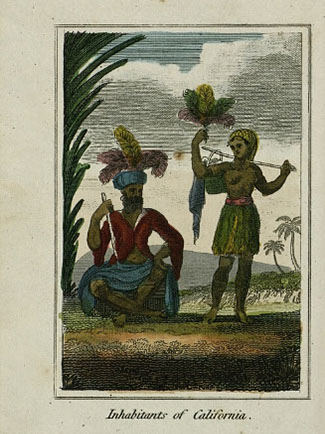 Exploring both the physical and cultural aspects of the earth, geography books written by women were combinations of natural theology, facts about countries, and cultural practices with instruction disguised in the form of a travelogue. As Mary Elliott proclaims in her preface to Continuation of Rustic Excursions, "We invite the young traveller to join our party without delay; and we pledge our word, that he, or she, will not leave us on the road, but tread every step of our path, and return to town, benefited in mind and health." In addition to instructing the child in physical geography, these texts also indoctrinated the 'superior' views of the British empire – noting the potential of Africa for philanthropy and Christian zeal as Mary Anne Venning does in The Geographical Present – and Christianity by promulgating the idea of non-Christians as 'idolators' and 'false' prophets.
Mary Anne Venning (British, Unknown) Inhabitants of California from A Geographical Present. 1818. Darton, Harvey & Co. 23h22022. Baldwin Library of Historical Children's Literature, Special & Area Studies Collections, George A. Smathers Libraries, University of Florida.