Florida
The Price Library of Judaica holds a wealth of materials pertaining to the Jews of Florida: their history and cultural life. The Library actively continues to acquire such materials and to build a reputation as a regional center of excellence for these resources.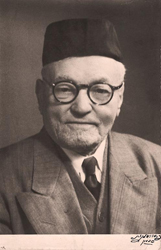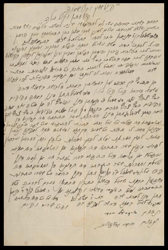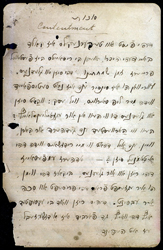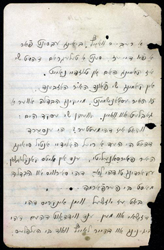 The library recently acquired a collection of papers belonging to the Rev. Benjamin Safer, the first Rabbi to the orthodox Jewish community of Jacksonville, Florida. The papers were donated by his grandson, Edwin Safer.
Born and raised in Lithuania, the son of a learned scholar and scribe, Benjamin Safer moved to the United States in the early 20th century at the request of the Jacksonville community. In addition to his rabbinical duties, Safer also acted as the community cantor, kosher butcher and mohel.
Reverend Safer's sermonettes (above) are particularly interesting due to the fact that he used the Hebrew alphabet to write down the English speeches that he delivered to the community. By writing English in Hebrew characters, Safer was able to ensure that he could read and remember his thoughts with confidence.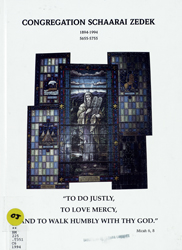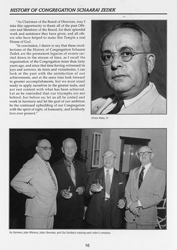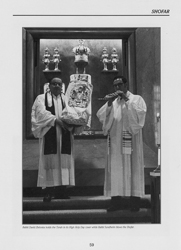 Congregation Schaarai Zedek, 1894-1994
1994
118 p. : ill. ; 28 cm.
An example of the wide range of materials held in the Price Library relating to the synagogues of Florida (of which there are currently more than 300). This book commemorates 100 years of the first synagogue in Tampa called Schaarei Zedek (gates of righteousness). Thirty-one men and women met in the home of M. Henry Cohen on October 14, 1894 to form the synagogue. The congregation embraced Reform Judaism in 1902.
Miami Beach Jewish Omnibus
Issued by the Jewish Cultural Club
v. : ill. ; 31 cm.
The frequency of this serial is unknown, and it may have been a single issue publication. The work contains text in English and Yiddish; the 1957 issue is owned by 8 libraries worldwide (WorldCat).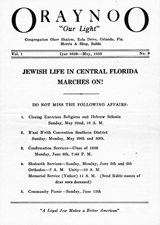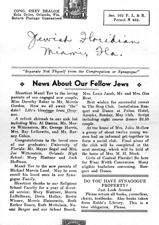 Orayno "Our Light"
1938
A newsletter of the Ohev Shalom synagogue in Orlando. The Ohev Shalom was Orlando's first synagogue and from its founding in 1918 through to the 1940s, the one synagogue building supplied all three denominations (orthodox, conservative, reform) with services! This particular issue from 1938 provides a fascinating glimpse into Jewish life in Florida by way of its announcements, sermons and community events.