St. Augustine, founded by Pedro Menéndez de Avilés in 1565, began as a garrison town and became the capital of the Spanish colony of La Florida in 1587. This was 44 years after the founding of San Juan, Puerto Rico; 42 years before Jamestown, Virginia; and 20 years before Roanoke, Virginia.
Government House stands at the heart of this historic colonial town. For almost 400 years the site was used as a center of government. It was a military, legal, and administrative site for the Spanish and British. Later, the United States used it as a federal customs office and post office. The building has evolved through a series of renovations since it first was constructed.
In 1598, the Spanish Governor established his residence on the site where Government House stands today, on the west end of the plaza that is known today as the Plaza de la Constitución. The original wooden house with thatch roof was purchased by the Spanish Crown for official functions and as living quarters for the military governors.
In 1690, the Spanish replaced the wooden structure with a two-story building constructed of masonry and coquina (a sedimentary rock made up of fragments of shells). English troops under the command of Carolina's governor James Moore sacked St. Augustine in 1702 and burnt the building. It was rebuilt and served as the central office of colonial government until the U.S. assumed control of Florida in 1821.
The story of St. Augustine is long and complex. Located at the heart of the city, Government House is situated to tell many aspects of that story, from Spanish colonial life to international warfare and politics, and from governmental administration to race relations.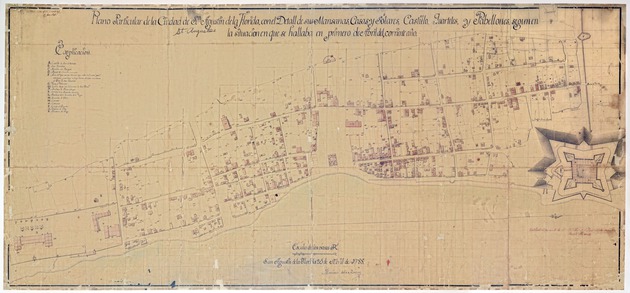 * click on the image to view larger within the UF Digital Collections
Unknown Copier of Rocque
Copy of Mariano de la Rocque's Plano Particular de la Ciudad de San Agustin de la Florida
Circa 1845
P.K. Yonge Library of Florida History, Special & Area Studies Collections, University of Florida
Gift of the U.S. Bureau of Land Management and the P.G.A./World Golf Village
Rocque's Plano Particular (1788) is the most accurate 18th century plat map of the city. For decades it has been used by historians and archaeologists to pinpoint the location of streets and structures, as well as to study colonial architecture. In the key, the Governor's house is described as a masonry house in good condition. This is a full-scale reproduction of the original hand-drawn map, which is preserved by the U.S. Bureau of Land Management.
---
Curated by Matt Armstrong, Tom Caswell, Jim Cusick, and John Nemmers
Designed by Lourdes Santamaría-Wheeler