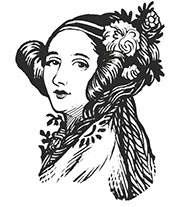 In honor of Ada:
Celebrating UF Women
Distinguished Professors in Science
Dr. Curtis
Dr. Jennifer Sinclair Curtis is a Distinguished Professor in the Department of Chemical Engineering, Associate Dean for Research and Facilities in the Herbert Wertheim College of Engineering, and Director of the Florida Energy Systems Consortium. She has been named a Fellow of the AAAS, AIChE and ASEE, and was the recipient of a Fulbright Senior Research Scholar Award. Her research expertise is in the development and validation of numerical models for the prediction of particle flow phenomena. Dr. Curtis has co-authored over 100 publications and is noted for her teaching and mentorship with numerous teaching awards. She will be the new dean for the College of Engineering at the University of California, Davis effective October 19, 2015.
Included here is an invited review article she co-authored that summarizes research using discrete element method approaches to model complex granular flows. In 2008, Dr. Curtis authored a chapter describing particle transport within a slurry.